Bocuse d'Or Asia-Pacific 2018 Was a Tremendous Success!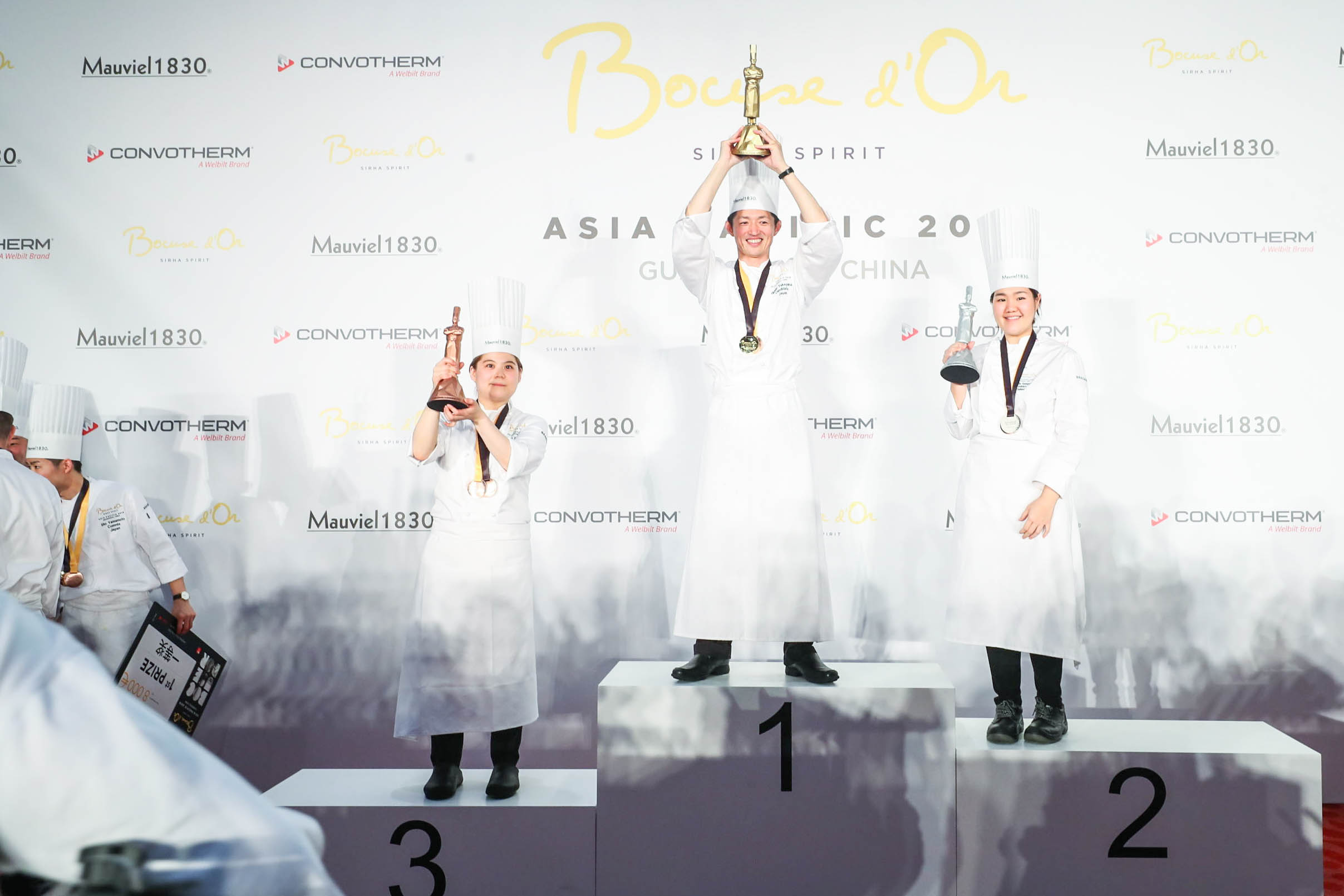 Hideki TAKAYAMA just made history during the Bocuse d'Or Asia-Pacific 2018 and becomes the best chef of Asia-Pacific continent this year! On May 9th 2018 in Guangzhou (China) the Japanese chef has won his ticket to the finale of the Bocuse d'Or, the most prestigious gastronomy contest in the world, along with Thailand, South Korea, Australia, Singapore and China. Bocuse d'Or 2018 Asia Pacific was successfully held, showing the international ability of convention and banquet service of LN Group.
After 2 days of an intense competition presided by Stefan Stiller and under the eyes of hundreds of enthusiastic supporters, Hideki TAKAYAMA has won the favours of the jury composed by Jérôme Bocuse (President of Bocuse d'Or), Alvin Leung (President of Honour), Kotaro Hasegawa (President of the Jury), and the presidents of each team.
As expected, because Japan has always been the front runner, Hideki TAKAYAMA presented outstanding dishes: Australian Veal tenderloin with Morels, white asparagus and Vegetables mille-feuille and Salmon with verbena sauce, green asparagus, shiitake, Yuzu and Sancho, Royale with dashi.
Created 31 years ago by the Chef of the Century Paul Bocuse, the Bocuse d'Or is today the most dazzling and challenging gastronomy contest in the world. To win the Asia-Pacific selection is an accomplishment for the Japanese chef, who received the coveted trophy by the hands of Jérôme Bocuse, son of Paul Bocuse and now Bocuse d'Or President.
The podium of 2018 Bocuse d'Or Asia-Pacific selection
RANK

COUNTRY

CHEF

COMMIS

1

JAPAN

Hideki TAKAYAMA

40 years old

Maison de Taka Ashiya, Ashiya City

Sho YAMAMOTO

2

THAILAND

Natcha SAENGOW

23 years old

Dusit Thani College, Bangkok

Thanathip PIYAKAMPERM

3

SOUTH KOREA

Seon Yeong GU

24 years old

GATI Company, Seoul

Jin Won LEE
Along with them, 3 others chefs will go to the Finale of Bocuse d'Or and compete to be awarded Best Chef of the world:

4th PLACE – AUSTRALIA
Michael COLE, 34 years old, from Georgie Bass Cafe & Cookery School, Flinders Hotel
Assisted by Laura Sjavor

5th PLACE – SINGAPORE
Noel NG CHOON WEE, 37 years old, from Fairmont Singapore & Swissotel The Stamford, Singapore
Assisted by Joe CHONG MING JIE

WILD CARD – CHINA
Zhu Wei FU, 38 years old, from Taian Table, Shanghai
Assisted by Joe Wei LIU

For these 6 chefs, the extraordinary human adventure continues and an intense preparation program begins as of now, to be the best chef during the Finale, scheduled in January 2019 in Lyon, France, during the Sirha trade show.
BEST COMMIS PRIZE:
Laura SJAVOR from Australia
SPECIAL PLATE PRIZE:
Noel NG CHOON WEE from Singapore
SPECIAL PLATTER PRIZE:
Ranjit DEBNATH from India
Next step: the Finale during the Sirha trade show in France
Every two years, the Sirha trade show, the World Hospitality & Food Service event, brings together 208 000 professionals and showcases worldwide novelties and trends of more than 3 000 exhibitors. Held in Lyon, France, every January of odd years, it hosts prestigious contests, as the Finales of the Bocuse d'Or and the Coupe du Monde de la Pâtisserie (International Pastry Cup).
The next Sirha edition will be held from January 26th to 30th January 2019. After 62 national selections and 4 continental rounds, it will be the time for 24 young chefs, among which the five selected chefs of this 2018 Asia-Pacific selection of the Bocuse d'Or, to demonstrate their skills and to promote their culinary legacy during the Finale that can change their lives and careers.